The Gardens Casino
The Gardens Poker Festival Ft. WPT500
Wednesday, May 31, 2017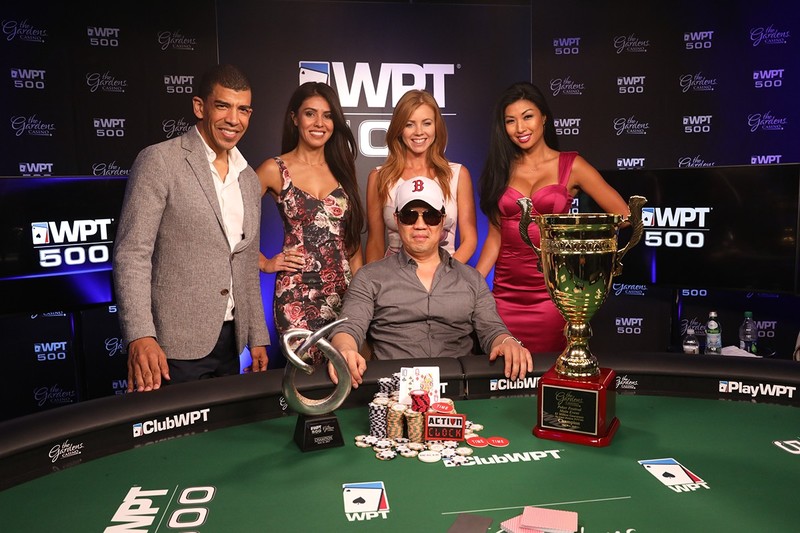 Dong Le, Winner of WPT500
The highly-anticipated Day 3 of Event #14 came to a closing, announcing the first ever WPT500 Los Angeles Champion, Dong Le. The event took place at the heart of The Gardens Casino's Special Events Room which included the Action Clock from Protection Poker. Broadcasting was live streamed through WPT with leading commentary Donnie Peters, Daniel Stelitz, and WPT Season X Player of the Year Matt Salsberg. Stelitz stated on live stream, "I'm really excited to see what Dong Le does, I have no idea what he's going to do and I'm going to love it". First time WPT player Dong Le's aggressive play pays off, defeating Canadian professional poker player Owen Crowe in a heads-up battle winning the first WPT500 Los Angeles title, 1 st place of $224,500, a WPT500 trophy, and The Gardens Casino championship cup.
If you would like to watch the replay of the final table, please click here
1st: Dong Le – $224,500
2nd: Owen Crowe – $130,000
3rd: Peter Hengsakul – $100,000
4th: Richard Tae Kim – $81,000
5th: Ilya Shpiner – $65,000
6th: Deepinder Singh – $49,000
7th: Mike Eskandari – $36,000
8th: Alex Fayneshteyn – $28,000
9th: Greg Roberts – $21,000
The Poker Festival concluded with Event #16. The event drew 261 entries and a hefty total prize pool of $48,690 with $50 knock out bounties.
Thank you to all our players and participants for making The Gardens Poker Festival ft. WPT500 a success, creating an adventurous, engaging and unique environment for all.
Tuesday, May 30, 2017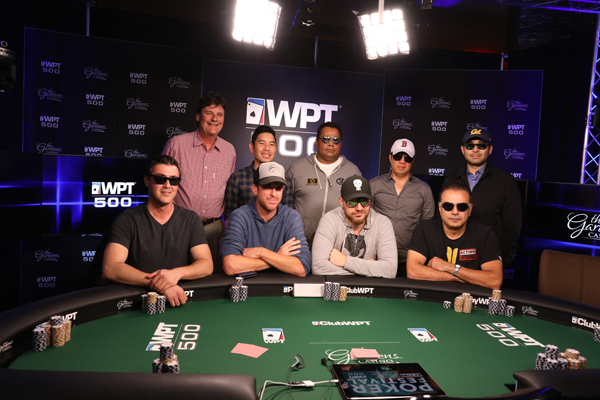 Final 9 Players of WPT500
Day 2 - The day ended with nine players, including local The Gardens Casino player, Mike Eskandari, along with second place finisher of Event #6 and current chip leader, Peter Hengsakul. Commentators Donnie Peters. Daniels Strelitz and WPT Season X Player of the Year, Matt Salsberg will be reporting on live stream the most anticipated WPT500 of the Poker Festival on Tuesday, May 31 at 3 p.m. as 9 players battle it out for the first place prize of $224,500
Seat 1. Deepinder Singh – 4,175,000 (21 bb)
Seat 2. Peter Hengsakul – 8,675,000 (43 bb)
Seat 3. Greg Roberts – 3,050,000 (15 bb)
Seat 4. Owen Crowe – 1,975,000 (10 bb)
Seat 5. Alex Fayneshteyn – 3,275,000 (16 bb)
Seat 6. Mike Eskandari – 7,150,000 (36 bb)
Seat 7. Ilya Shpiner – 3,125,000 (16 bb)
Seat 8. Dong Le – 7,500,000 (38 bb)
Seat 9. Richard Tae Kim – 8,350,000 (42 bb)
Event #15 was a high roller tournament with 50k in starting chips. This event brought 83 to the table and a prize pool totaling $83,000. Cody Shed took first place outright, taking home the trophy and $25,000.
Monday, May 29, 2017
WPT500 Los Angeles ended Day 1 with total entries of 3,266 and a prize pool of $1,633,000. 250 players will be returning for Day 2 for a shot at the final table. Day 2 will play down until its reach the final 9 players.
Sunday, May 28, 2017
At an impressive $1,259,000, The Gardens Poker Festival boasts the prize pool for WPT500 Los Angeles Event #14 to hit over $1.5 million, with first place to take home over $200,000.
Saturday, May 27, 2017
"Can you say over $1 Million?" was quoted by The Gardens Casino Tournament Coordinator, Cavin Quintanilla as the prize pool hit close to $1,020,000 and the entries totaling 2,038. Excitement is in the air with the prize pool exceeding the guaranteed amount and still has four Day 1 sessions remaining.
Friday, May 26, 2017
With the Memorial weekend ahead, the prize pool has already reached almost $800,000. A total of 378 players entering has brought the total entries to 1,584 and 128 participants qualifying for day 2 with the average chip stack of $187,500.
Thursday, May 25, 2017
WPT500 Los Angeles has brought excitement and a prize pool of over $607,000 to date. Poker legends and pro poker players such as Eric Lindgren with 2 WSOP Bracelets & 2 WPT Titles, Matt Salsberg with over $2.4M in live tournaments, Moshin Charania earning more than 5.2M in live earnings and local pro Tony Ma with 2 WSOP Bracelets came out for the 11am and 5pm sessions of the Gardens Poker Festival's Main Event.
Wednesday, May 24, 2017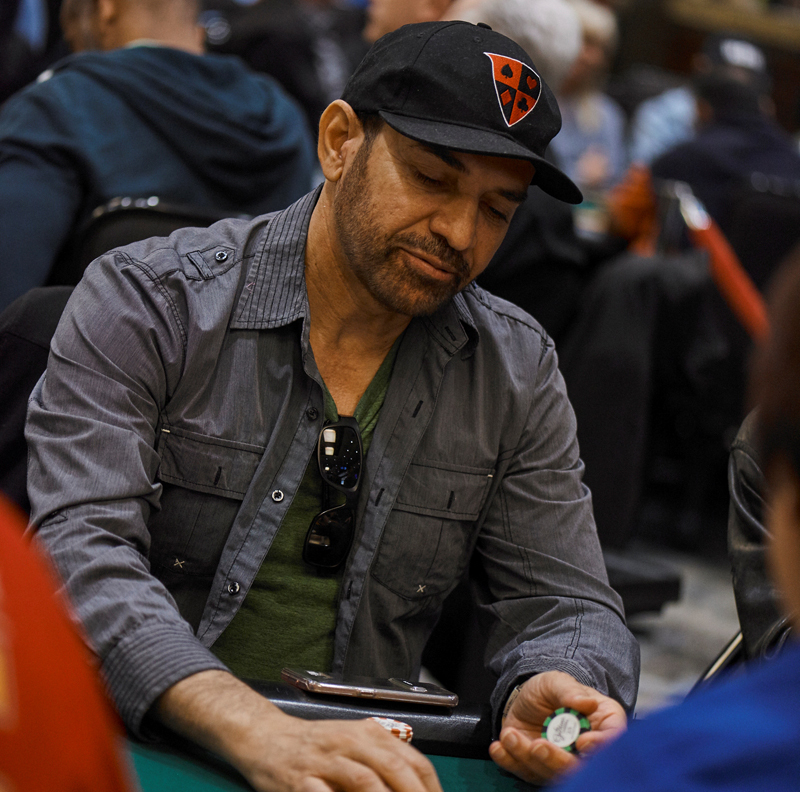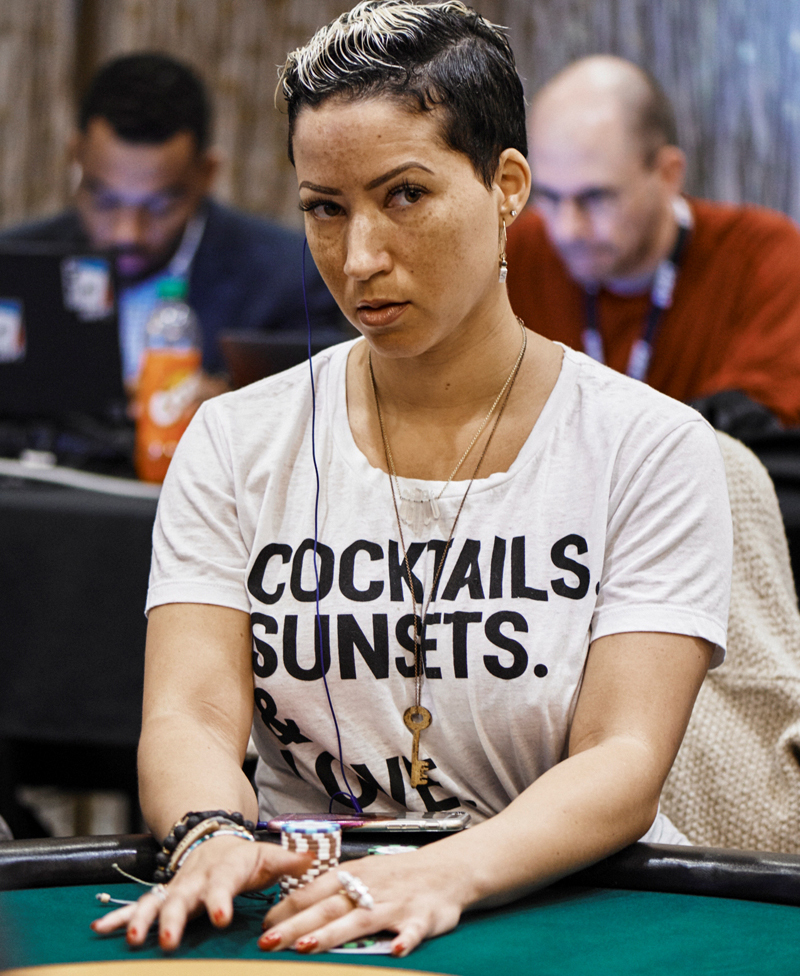 Mike Shariati and Ebony Kenney
A total of 887 entries after the first four sessions of the WPT500 Los Angeles and it looks like the prize pool will climb well over $1Million Guaranteed with the upcoming Memorial Day weekend. Several WPT Champions Club Members have entered such as Asher Conniff, Phil Laak, Harry Arutyunyan and WPT Season XIV Player of the Year Mike Shariati.
For live updates please click here
Tuesday, May 23, 2017
Day 1C of the WPT500 $1Million Guarantee had 208 entries, bringing the total prize pool to $337,500 after only 3 sessions. With another 17 players advancing to day 2, there are now 55 already bagged and tagged. Minimum payout on day 2 is $1,200, which could be higher as the prize pool looks to soar well above the $1Million guarantee. Players can qualify more than once and play their best stack while getting paid for the lower stacks that will be removed from play.
The 11am sessions have been ending at approximately 9pm. All day 2 players will return on Tuesday 5/30 at 1pm. The high limit VIP Poker cash games have seen an influx of players as a result of the WPT500.
The 6pm Mega satellite had 138 entries and awarded 21 WPT500 seats plus some change. The action will continue Wednesday 5/24 with another 11am session, single table satellites from 10am-5pm and another 6pm Mega satellite.
For live updates please click here
Monday May 22, 2017
The Gardens Poker Festival's MAIN EVENT: WPT500 $1Million Guarantee Day 1B had 170 entries, bringing the two day total to $233,500. The event is on pace to exceed $1.6Million so don't miss out on the opportunity to play for life changing money. Tuesday 5/23 WPT500 Day 1C starts at 11am with registration closing at 3:30pm.
Players can get in on a $65 single table satellite or try one of the very popular Mega Satellites at night. The last two 6pm Mega Satellites have awarded 20 seats each.
For live updates please click here
Sunday, May 21, 2017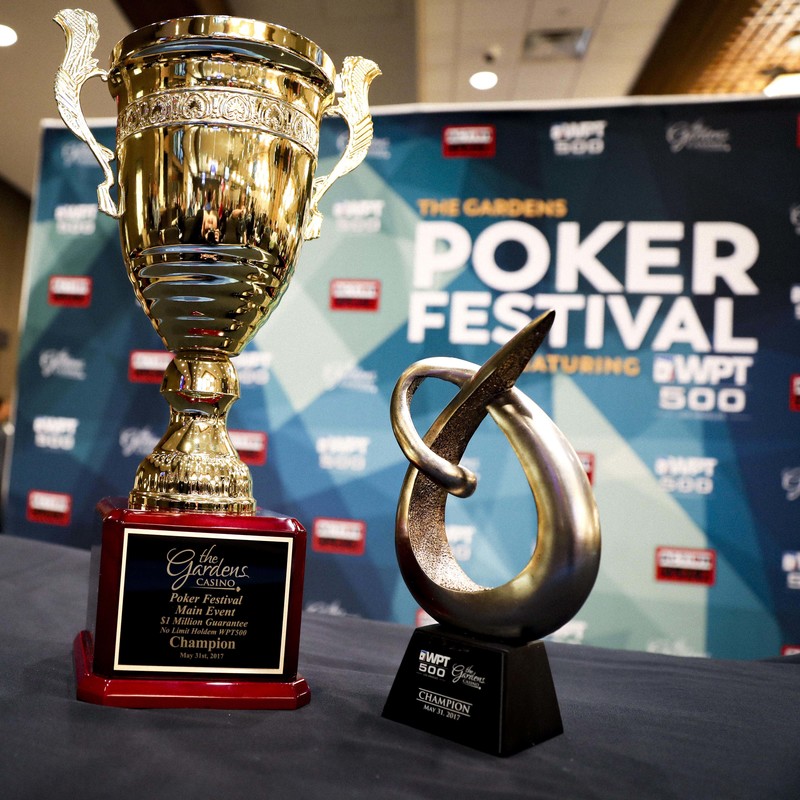 Event #14 WPT500 $1Million Guarantee started Day 1A with a total of 297 entries. 36 players made it in the money and the top 24 qualified for day 2 which will be on Tuesday May 30 th at 1pm. Players that make it to day 2 will have earned the right to play by battling through a Day 1 session and making into the top 8% of the field.
For live updates please click here
Saturday May 20, 2017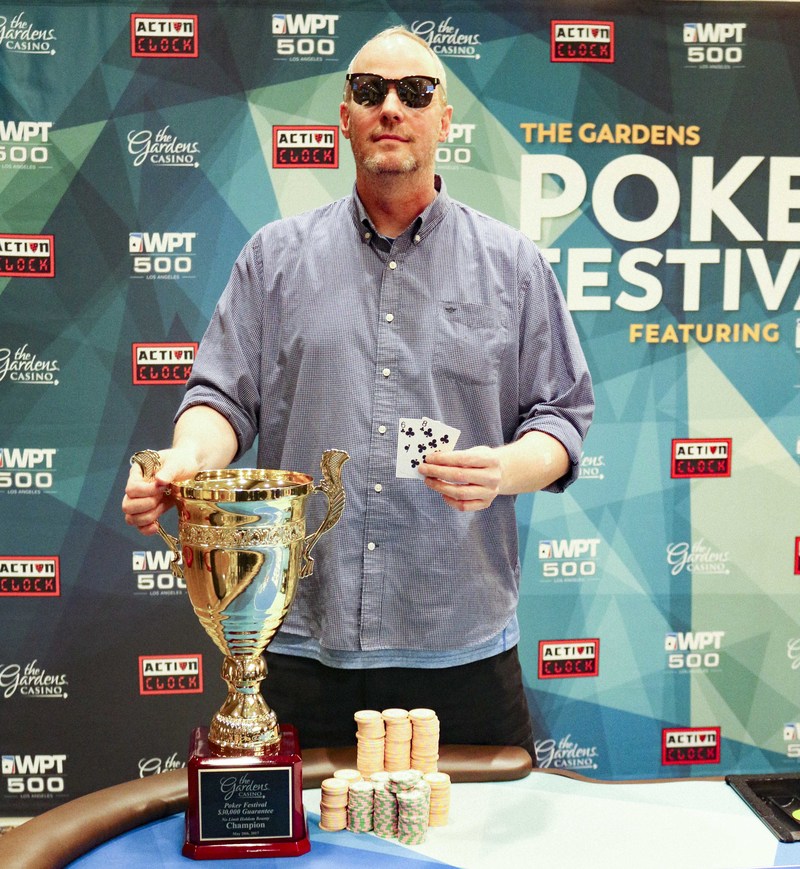 Tim Breien
Event #12 , a $30,000 Guarantee knockout Bounty tournament. It didn't disappoint as there were 247 entries and a total prize pool of $46,080. Tim "No Chop" Bresien stayed true to his nickname as he outlasted the field and won the trophy and first place outright.
Event #13 incorporated a player card promotional tournament that the Gardens Casino hosts every Saturday into the Poker Festival. The Gardens Casino upped the guarantee to $7,500 from its usual $5,000 guarantee. Total entries were 189, generating a prize pool of $10,770.
Friday May 19, 2017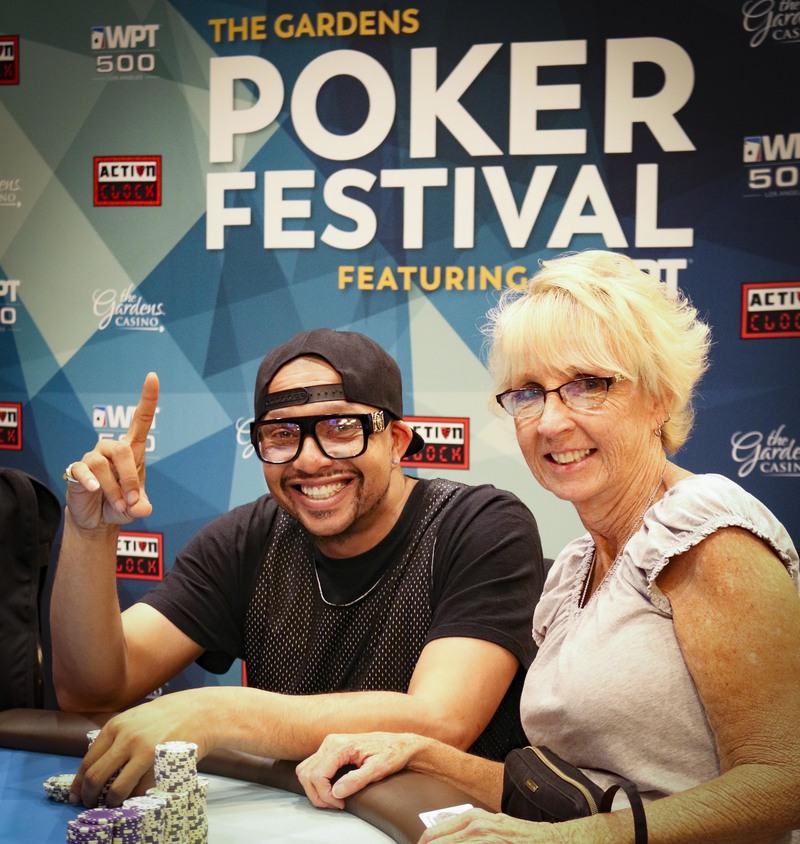 Darryl Mann and Danette Bernard
Event #10 BIG-O and 7-Card Stud Hi-Lo 8 or Better Mixed tournament with a $10,000 Guarantee! 95 entries with a prize pool of $12,950. Danette Bernard, a local player/dealer and Darryl Mann were part of the 5-way chop. The Gardens Casino runs a 12-24 Hi-Lo Mix (BIG-O/Stud EO) cash game daily and consistently hosts Mix Games in the spectacular 39 table VIP Poker Room.
Jerry Rojas
Event #11 had 621 with a prize pool swelling up to $142,240 and first place worth $34,120. The Final Table chopped 10 ways and Jerry Rojas took home the trophy in the deal.
Thursday, May 18, 2017
Event #8 at 12pm, was a $10,000 Guarantee Timed tournament. Total entries: 114 and a nice prize pool of $15,510. Players were able to play in both the Timed tournament (just over 6 hours of play) and the featured event that started at 5pm.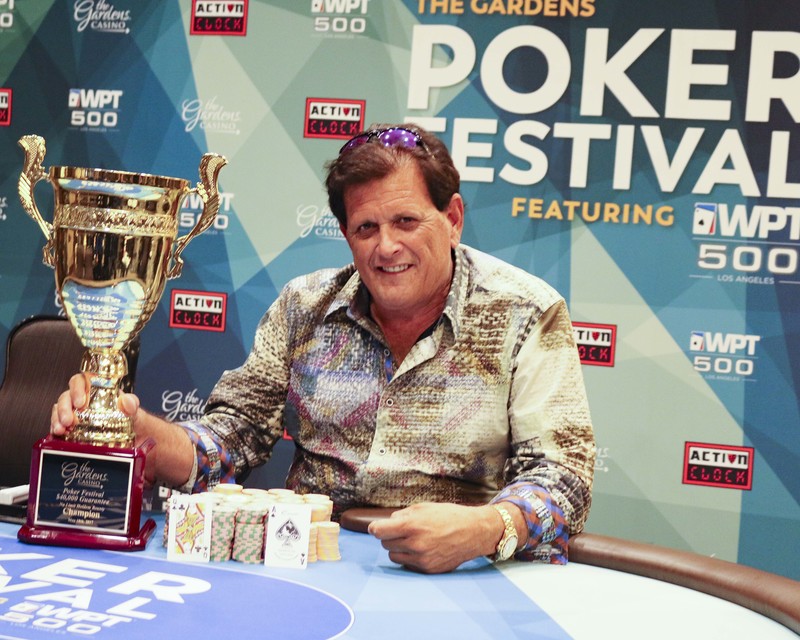 Michael Rangel
Event #9, $40,000 Guarantee No Limit Hold'em tournament with $50 knockout bounties. The turnout added a plenty of excitement as 315 players produced a total prize pool of $59,000. Play ended with some of the Gardens Casino regulars like John Wolczanski, George James and Jesus Sanchez making it to the 7-way chop. Local player Michael Rangel was the chip leader and took home $7,710 plus the trophy and some bounties along the way.
Tuesday, May 16, 2017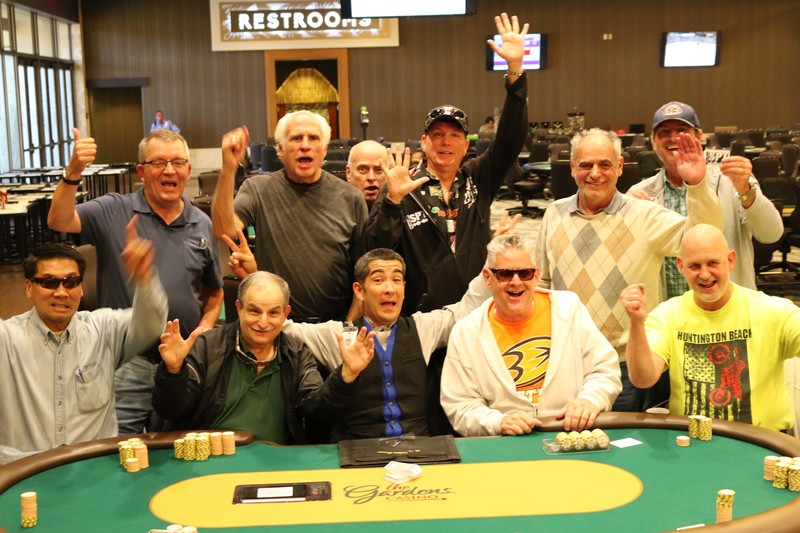 James Guziak second from the left
Event #3 started with the Senior Poker Tour (SPT) No Limit Hold'em Event #3 at 10am. The 50 years young and more crowd bought in for only $110 and played for their share of the $10,000 guaranteed prize pool. The SPT event had 151 entries and more than doubled the guarantee with a prize pool over $20,000. The final 10 players chopped with chip leader James Guziak taking home top honors.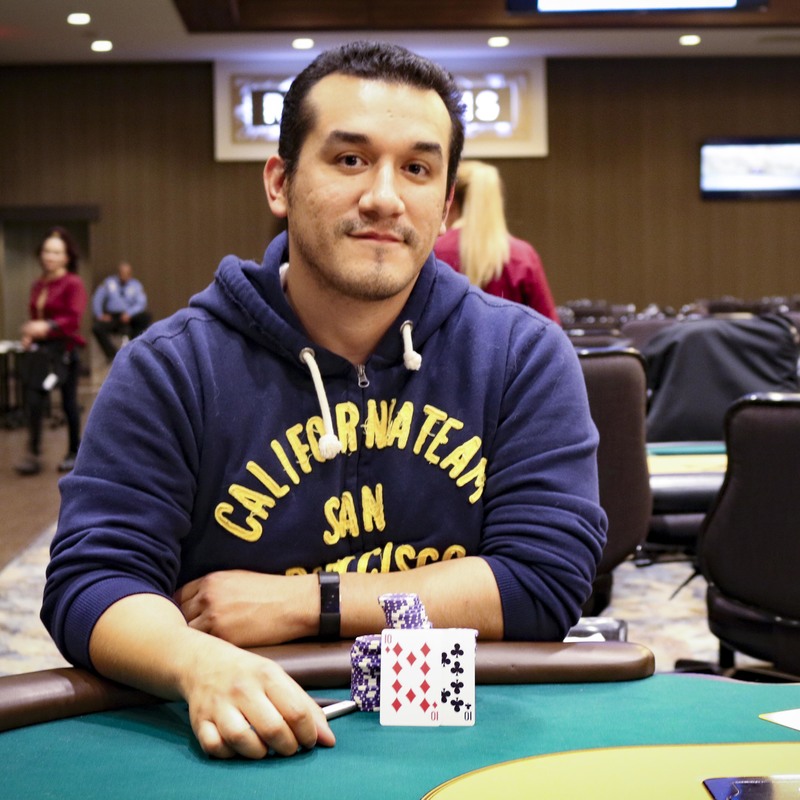 Alberto Orozco
Event #4 shifted gears and offered a Limit Hold'em event with a prize pool of $10,000. Local poker pro Alberto Orozco won the event out right after a heads up battle for the title.
Monday, May 15, 2017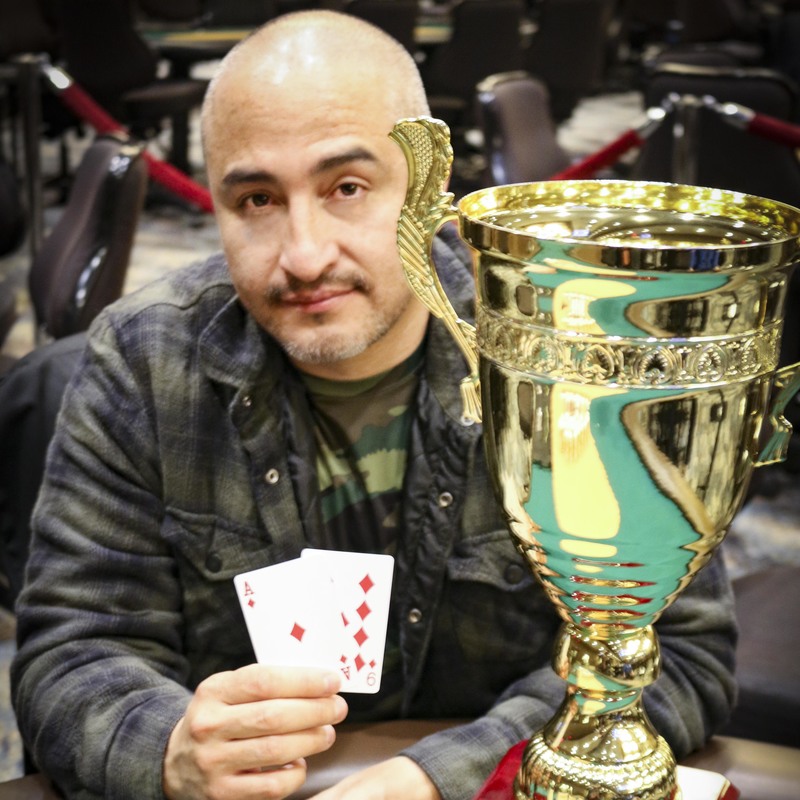 Bruce Tello
Event #1 had a whopping 383 entries with the prize pool more than doubling the $30,000 guarantee. The total prize pool including bounties was $71,370 ($19,150 in bounties and $52,220 in payouts). First place took home more than $13,000 plus bounties! Play ended with a five way chop, a deal was made and Bruce Tello who was second in chips took home the trophy.
Event #2 was a $10,000 guarantee Timed Tournament which featured the Action Clock when the field got down to 4 tables. There were 141 entries and a total prize pool of $19,340, almost doubling the guarantee. The Timed event lasted just over 6 hours and the chip count equity chop saw 16 players getting paid.